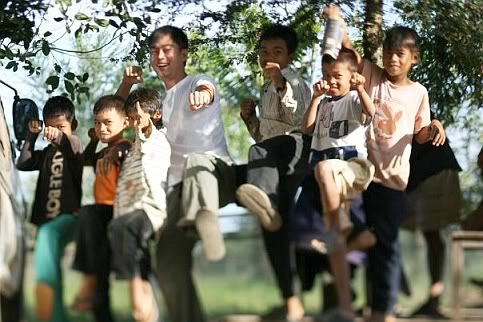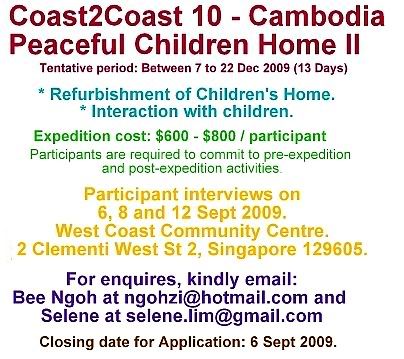 Hi all,
Coast2Coast is now recruiting participants for C2C Team 10, expedition project to Cambodia, Peaceful Children Home II.
Requirements for the volunteers:
Your big heart and lovely smiles for the kids there!
Commitments for pre-expedition and post-expedition activities like fund-raising, team-bonding activities, local volunteering work and meetings!
Postive and able to work in a team.

Kindly find the details of the expedition below.
Any enquires, please feel free to email me at
selene.lim@gmail.com
Please help me to spread the word! Thanks!
Download Participation Application Form
(Word Doc)
Cheers
Selene
------------------------------
---
Coast2Coast Team 10 - Cambodia (Peaceful Children Home II)
Coast2Coast (C2C) 8 had refurbished Peaceful Home I in December 2008. Following up from C2C 8, C2C Team 10 will embark on another expedition to refurbish the facilities for Peaceful Children Home II which is located at Battambang province. Besides refurbishment of the building structures, Coasters will also engage and conduct interaction programmes with the children in Peaceful Children Home II.
Expedition tentative period will be a 13 day trip between 6 to 22 Dec 2009.
Application closes:
12 Sept 2009
Interview dates:
6 Sept 2009 Sunday, 12-4pm;
8 Sept 2009 Tuesday, 7-10pm;
12 Sept 2009 Saturday, 2-5pm;
Interview session will last around half an hour.
Interview venue:
West Coast Community Centre.
2 Clementi West St 2, Singapore 129605.
What to bring during Interview:
Participation Application form (filled up) with
passport size photo attached
.
What to expect during the interview:
This session is mainly to let us know your expectations, let you know our expectations, what the expedition and scope of work is about, what commitments we need from you. This session will also clear up any doubts / concern you have in mind. :)
Interested parties, kindly email Selene at
selene.lim@gmail.com
with the following items:
1) Filled up
Participation Application Form
(Word Doc)
2) Your contact number
3) Choice of your interview date and time
Project Coast2Coast, under the umbrella of the Ayer Rajah-West Coast Citizens' Consultative Committee (AR-WC CCC), was initiated in January 2005, shortly after the tsunami. It was a community-based overseas humanitarian expedition programme aimed at providing good overseas learning opportunities to local volunteers so as to inculcate in them a sense of public spiritedness, global social responsibility and also to enhance their inter-personal, project management and leadership skills. For more information, please visit
http://www.coast2coast.org.sg/